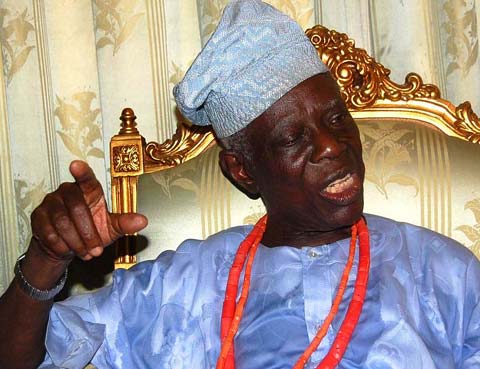 *Carpets Obasanjo's anti-corruption posture
*Says Yar'Adua must be feeling very terrible

This is the second part of the very interesting interview with Chief Omowale Kuye, the Osi Olubadan and former Federal Director of Budget.
Kuye makes quite a number of revelations on how budgets never really get implemented in Nigeria and how government officials collude with contractors to defraud the nation.  An example:
"I have seen a clear example of what you are saying (how contractors and government officials share contract money) because I acted as a lawyer for a client, a German, in one matter that I would tell you. He was to do something at this their Abuja airport all the time and they collected so much money but I can not remember the figure straight away but the money was huge.  When they got the money, trouble started and as much as he wanted out of it, they did not give him.  The then permanent secretary of the ministry took as much as he wanted, the rest of them also took as much and wanted to give him very little.  He shouted and then came to hire me as his lawyer".  Get the details in the interview below.
By the time the issue of G-34 came up, Omowale Kuye's mien changed.
But Sunday Vanguard was aware of the events which led to the assassination of Kudirat Abiola during the General Sani Abacha days.
Kuye, a very close friend of the Abiolas and one whom Moshood Kashimawo Olawale Abiola saw as a big uncle, joined forces with other patriots to warn Abacha on the dangers of and the crass spinelessness in his bid to transmute into a civilian president.
That is where this second part kicks off.
Excerpts:
In 1998, you joined other Nigerians in  the G-34 group and signed a letter addressed to the then head of state, General Sani Abacha.  You were never known to be a politician because most of those who signed were politicians and ended up as members of PDP.  What was your involvement like?
Yes!  I signed the letter and stuck out my neck to fight Abacha.
The reason was that Abacha, unknown to many people, was my personal friend.
Sani Abacha?
In those days in government, he would say little or nothing.
During meetings where I had participated, Abacha would just keep quiet and watch.  He would say little or nothing.
But one thing which I noticed about Abacha was that anything he wanted to do, nobody could stop him.  I took my time to notice that in him.
Could you give an instance?
For instance, if he wanted an office in government, nobody could refuse to give it to him!
Refuse how?  You mean when he was Minister of Defence, he could take over any office or what?
No!  What I mean is that once he desired something he went after it and got it.
He wasn't minister of defence before.
It was General Domkat Bali that was Minister of Defence, Chairman Joint Chiefs of Staff.
When he wanted it nobody could refuse him.
Was that why they removed Bali?
(Cynical laughter) Me I don't know-o.
But he was the one who replaced Bali and when you look at the happenings before then….Any way that was the kind of person Abacha was and in terms of likeness, Abacha really liked me. Until his death, I called him directly on his line and he would call me directly on mine. There was one example which always made me attempt to study Abacha more. There was this instance when he wanted to take over UBA from that boy that bought it then, Hakeem Bello-Osagie. Abacha had already set up a committee and moves were already being made on how to perfect it. So, he called me and sought my views on the matter. I said, 'Ha! General, don't take the bank from this boy-o.' I made him understand that it would destroy the credibility of the privatization programme. He looked surprised and asked, 'is that true'? I said 'General, if your advisers didn't tell you the truth, I will tell you because I am your friend'.  And that is part of the problem in government when advisers can not tell their bosses the truth as it should be told without compromising respect to constituted authority. Then he invited me to Aso Rock Presidential Villa for dinner to come and discuss the matter with him. I went and we had dinner and during dinner we discussed the matter. He asked: 'tell me how what we want to do will affect the programme'? I told him that if we sell shares of a company to members of the public and suddenly government or leaders in government find another way of buying it back and taking it over, people who have bought will be afraid that you are coming back to take over the companies where they have their shares. I also made him realize that others that had not sold as at that time, if we advertise to sell them, people will not buy them because their fear would be that an air of uncertainty would surround the exercise because the fear would always be there that another government that takes over at some point in future would do the same thing.
I said whether it is a bad government or a good government, once this type of programme has started, it must continue but that if at any point what he was attempting to do is done, it would damage the entire programme.
I then asked what he stood to benefit if the programme failed.
Why do you think Abacha invited you; of all the people who were involved in that programme of privatization?
I can not hazard any guess now but since he was in the Armed Forces Ruling Council, AFRC, with Ibrahim Babangida, he must have studied my approach to work.
In fact, he never even asked what qualification I had regarding the matter. He just called me and once I made my position, which is the best within the circumstance known to him, he invited me over for dinner.
Mind you, at that time, I was appointed as the sole administrator of ICON Merchant Bankers and I was still serving as a member of the Committee on Privatization (Technical Committee on Privatisation and Commercialisation)TCPC.
That was why I made it clear to him that it would destroy the work we were doing.
So, in spite of your friendship with Abacha, you still went ahead to sign the G-34 document?
Yes, I did because I believed in what we were doing.
I believe that you can not convert this country to a country where only one man would claim to know and have all the answers.
I also believe that there are many Nigerians out there who can do a fantastic job of ruling this country and making it a better place to live in but the problem I have discovered is that most people do not want to get involved in politics.
The negativity in politics is such that it scares people away and we have seen and we are still seeing these elements of negativity on a daily basis in this country.
But in the event that such people are invited to come and join and it is done fairly, they would perform and Nigeria would become the better for it.
That is far better and much more decent than a situation where just one man would say he is the answer and, therefore, everybody should come and queue behind him.
In fact, in the bottom of my heart, that was why I also became very happy the moment Obasanjo's Third Term gambit failed.
I was coming to that since you worked with Obasanjo.  If you kicked against Abacha because of the reason you gave lastly, what then would you say of Obasanjo?
In fact you needed to know how happy I became when Third Term failed.
I'm happy that he didn't succeed.
But that was why he then imposed Yar'Adua on us because he thought that Yar'Adua would allow him to continue, defacto.
Talking about Yar'Adua, Obasanjo and Nigeria,  you've made it clear from the beginning of this interview that you would not discuss politics but you are a Nigerian and whatever the politicians do affect you. Since November 23, last year no one has seen the president except his wife and a handful of people.  It took the National Assembly almost three months to act, though that action is alien to the 1999 Constitution of Nigeria.  Would you say Nigeria deserves to be treated like this?
Let me start off by saying I would rather not comment on Yar'Adua but let me say this.
Yar'Adua's senior brother was the deputy to Obasanjo as military head of state, a complete gentleman.
Before Yar'Adua became deputy to Obasanjo I knew him, not as a friend but I would always see him and noticed he was a gentleman.  He was aide de camp to my late friend, General G J A Ali.  Godwin Ali was the Commander of the Resettlement Centre and Yar'Adua used to follow Ali to our Golf Course, carrying his golf bag – so you would see that I know him.
And to be frank, we were always looking at his younger brother to perform and behave like the senior Yar'Adua. However, that he was sick – any human being is entitled to be sick. That he was not able to be seen – not all people that are sick could afford to receive visitors because they would say you would infect them.  So for that reason, you can not necessarily blame him because nobody would be well enough and would choose to abandon his post.
Yar'Adua must be feeling worse than any of you Nigerians complaining because his own complaint would be 500 times much more than that of Nigerians because of his failing state of health, that how can Nigerians trust me with this type of responsibility but because of this my failing health, I am letting them down.
So, on my part, I am more in sympathy with him than with most of the complaints people are making. Now, having said all that, the failure of the National Assembly to do something earlier is because the Constitution of Nigeria as drafted did not provide for something like this.
The way they even went to do what they did remains unconstitutional because this constitution of Nigeria which I reviewed in 2001 has not been followed nor has it been amended to accommodate what the National Assembly did.
Yar'Adua ought to have written a letter to the National Assembly to say my deputy will act for me because I want to be off to look after my health and goodluck to him so much so that if he goes for three years, so be it; and whenever he is well enough, once his term has expired, he can come back and take it.  So this is how I look at the Yar'Adua issue. But the method used by the National Assembly to get us going – in fact anything that could get us going – is better than not going at all because the option to that is chaos.
Okay, the National Assembly has got us going but you made a statement before this interview that Nigeria has refused to appreciate where it is coming from and we neither know where we are or where we are going?
When I say we don't know where we are going, it is because 99% of the time when I look at these politicians, their conduct is such that they do not know the import of what they have been called upon to come and do for Nigeria and Nigerians.
Well, I conclude by saying nobody called them because they called themselves by rigging themselves in because if we called them, they would know what their constituents want and even if you can not afford to do what they wanted from you, may be the best you can do is to open your hand to them and say 'gentlemen and ladies, this is how far I can go'; and that way, somebody else who can deliver will come and do a better job.
But do you even know these representatives of yours?
They don't need you, they only need the Adedibus of this world who would take the ballot boxes into their homes and use their fingers and toes to thumb print and toeprint and to announce any figures they want.
In Anambra, the case was different; it was a case of the people who know their right.  You can not cheat any Anambra son or daughter because he will resist and by all means to let you know that his right can not be compromised – not many parts of Nigeria can do that.
Even in Oyo State where we used to have Agbekoya, they used to resist oppression but were they able to resist Adedibu's imposition when they were being killed on the streets?
It's a question of somebody asking if you want to die, and people will back off – you're not a honourable as they call themselves, you're not a governor neither are you a minister so what do you want?
Unlike the real Agbekoya when Ibadan people moved on the streets and made it clear that they would not accept oppression.  Today it is different because their wives and children will call them back and ask 'what is your own'?
Because of that the thieves now have a field day, the crooked politicians have a field day and they are doing precisely what they want with us.
Please forget that talk about changing Maurice Iwu, National Chairman of the Independent National Electoral Commission, INEC, or not, if the politicians remain what they are and if they are determined to rig, take Olisa Agbakoba or any other person, even an angel, any other person will fail much more than Maurice Iwu because it is the politicians and not Iwu as an individual.
Now, on the budget: Looking at Nigeria's state of underdevelopment, would you say it is a function of the failure of budgets?
I don't think so.  There is something they call development plan and not that I think it is a necessary plan, just like a signpost.  Before they were saying 2010 now they are talking about 2020 or is it 2050.  That merely gives an impression that there is an idea on the table of where the country should be at a particular time.  Then there would be items of development that would key into this very big picture in the areas of housing, power supply, health, education as at that time.
The annual budget is just a means of implementing those decided projects based on your expectation from your income which we call revenue and based on that you divide them among the projects.  But I think most of the projects are not just 12 months – some may be but others may go beyond one year.  The one for just one year, you must budget enough to accomplish it; the one for two years, you must budget accordingly to the projection in terms of allocation of resources.
But you would agree that there are some projects that have become a permanent feature of budgets spanning three four sometimes fives years and they are never completed?
The projects that would last for more than one year or two years would always be re-introduced in the budget for the number of years the projects would be completed.
No.  Until Yar'Adua came and insisted that monies not spent in a year must be returned to the treasury at the end of the year, what was discovered was that towards the end of the year flimsy contracts are awarded in such a way as to just spend the money and we have also been confronted with situations where every year some projects are inserted into the budget but are never even executed but funds for them are released and spent one way or another?
That is a question of brain wave. They have brain wave; they just itemize things in the budget.
When I was Federal Director of Budget, for me to admit your project into the budget, you must have done complete feasibility studies.
You must have given me, sequentially, how many years it would take to complete the project. You must have broken it down to percentages of completion and that is why my budgets will always meet your needs in terms of projects and funding.
Now, if it is a brain wave, which you just list, then there is always going to be a problem.
'You want to get to the moon, full stop, gba, you just list it.
'It will take N30 billion to get there'.
That is brain wave. One, you have not defined how you want to get to the moon; two by what means; by what route; what will carry you there; when will you buy it; with how much will you buy it?  All these questions have to be asked and answers provided before you can even begin to say you want to document it and then it becomes a fitting candidate to be put in the budget.
Why do budgets never really get implemented?
It is exactly for the last example I gave because there are certain procedures that must and should be followed – from mobilization to funding to monitoring to meeting set targets and all that.
Okay there is already what appears to be a brain wave project: The Abuja airport runway which some experts are saying its cost would be the highest ever in the world and that that same fund would have been enough to build a brand new airport.  It was budgeted for?
That might be over-estimation. And that is wrong because if they have over-estimated, they will encourage the contractor bidding to start inflating the cost, therefore, the people, both the contractor and the people proposing the project may have joint interest somewhere,
I have seen a clear example of what you are saying (how contractors and government officials share contract money) because I acted as a lawyer for a client, a German, in one matter that I would tell you.
He was to do something at this their Abuja airport all the time and they collected so much money but I can not remember the figure straight away but the money was huge.
When they got the money, trouble started and as much as he wanted out of it, they did not give him.  The then permanent secretary of the ministry took as much as he wanted, the rest of them also took as much and wanted to give him very little.  He shouted and then came to hire me as his lawyer.
I pushed the case as hard as I could and we found that they had not spent the money, the money was deposited into a bank and I got a court order to guarantee that the money would not be touched.
Obasanjo came in and in fact Obasanjo was the one who set up the enquiry.
You know what Obasanjo did?  He consented to the release of the money behind my back and in spite of the court order.
This was when he was President?
Yes.  He consented to the release of the money.
Not only that, the man that complained they cheated him, they gave him another big contract at that their same Abuja airport.
He is one of the people now being detained for stealing billions.
I think about three four weeks ago I was reading in the newspaper that he got a court order or something to go to Austra to go and look after his health so you can see when they talk about corruption I do not know whether it is corruption but it looks like the people are more interested not in the projects they are announcing to us.
Because if somebody goes to the extent of complaining that they cheated him and goes ahead to hire a lawyer; and they set up an enquiry and I, Omowale Kuye represented that man and the enquiry found that the money is wrongly disbursed and, yet, despite all court orders, they went ahead to disburse the money and it was the time of Obasanjo-o, this same Olusegun Obasanjo as civilian president-o, who said he was chasing thieves; and who was grandstanding with Nuhu Ribadu, harassing people and claiming to be fighting corruption.
But the Obasanjo you knew then as military head of state, did you ever imagine that he would turn out to be what he turned out to be?
The Obasanjo I knew then was quite different.
The Obasanjo I knew until he was released from prison was different.
Some say as military leader, there were other members of the junta but as civilian president, he was fully in charge?
That is a question of the nature of an individual because a man changes according to circumstances.
A man has a right to change through experience because what you did yesterday might be done differently