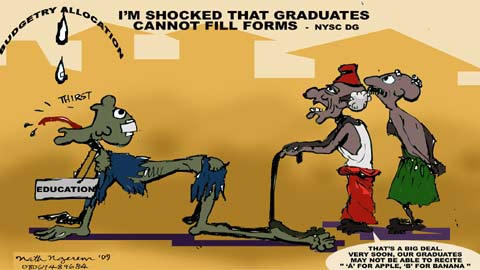 By Emmanuel Edukugho
As 2015 draws near, indications are emerging that Nigeria is most likely not to achieve the Millennium Development Goals (MDGs) in respect of Education for All (EFA), just as the country is still not listed any where near the 10 countries that have made rapid progress to meet the MDGs.
At the 29th Distinguished Lecture Series of Adeniran Ogunsanya College of Education, Otto/Ijanikin, Lagos State, delivered by Mr. Peter Ujomu, a researcher, sociologist and human resource practitioner titled "Contemporary Issues in Poverty and Nigeria's Development," said research has found that there is a high risk of educational underachievement for children who are from low income home.
"These children are often at higher risk to drop out than their counterparts from wealthier homes. Higher levels of juvenile delinquency, teenage pregnancies, etc, occur among this group. They often lack positive role models and often become mothers in their teens. Illiteracy increases the chances of unemployment which in turn affects income generation."
Pointing out that this factor affects every other sector negatively, he said those who are illiterate have often been found to neglect basic health issues and pay nonchalant attitude to their health matters.
Particularly, the connection between educational attainment and positive health behaviours has been ascertained.
Attention was drawn to the global competitiveness report 2009/2010 released at the World Economic Forum on 8th September, 2009 in which Nigerian economy ranked 99 in the world among 133 countries assessed. Nigeria was among the 13 countries in the world with highest maternal mortality ratio. In 2008/2009 global gender gap report, the country ranked 103 among nations assessed.
He affirmed that those living in poverty have a higher prevalence of disability and chronic illness, suffered lower life expectancy than those at higher income levels. Children from poor backgrounds are more commonly affected by infections, particularly respiratory and gastrointestinal infections, wheezing illness in infancy, failure to thrive in infancy, general ill-health, anaemia and nutritional deficiencies, middle ear disease, dental caries, permanent visual loss and squint.
In a report by UNICEF, Nigeria is among the 24 countries with large number of undernourished children in the world. "Poverty in Nigeria keeps increasing because of inadequate attention to health related issues. Malaria is a major cause of mortality and ill health in Nigeria and has huge consequences for productivity of the country. Nigeria loses N132 billion yearly due to malaria as a result of treatment, transportation, loss of manpower, absenteeism, and other indirect cost. Presently, Nigeria ranks second in the continent with the highest prevalence of HIV."
Ujomu lamented that with tremendous oil wealth and having potentials to build a very prosperous economy but unfortunately, poverty is wide spread to the extent that indicators place it among the 20 poorest countries in the world. According to the World Bank, about 66 per cent of the Nigerian population now fall below the poverty line of about a dollar a day compared to 43 per cent in 1985.
"Poverty is still a growing problem in Nigeria, a country which is estimated to have earned about 500 billion US dollars from oil since 1960. Poverty generates responses from the poor ranging from quiet acquiescence and submission to the mercy of God to the violent or coercive appropriation of resources with a host of possibilities in between.
He submitted that Education which is known to be vital for the growth of any nation is still not properly accessible in Nigeria and this contributes to the high incidence of poverty in the country.
"Though funds have been made available for nine years primary and junior secondary education for all Nigerian children as stipulated by the 2004 UBE Act, yet the Universal Basic Education Commission has said that over N40 billion meant for this project is yet to be accessed by various state governments as at August 31st, 2009. Most of the schools suffer from infrastructural decay."
Taking a look at poverty and corrupt leadership, it was acknowledged that the leadership question has continued to resonate in Nigeria since independence and it is a fact genuine leadership has eluded this country for so long.
"Corruption practices have serious negative impact on the lives of the poor majority. It is a major cause of stunted national development. It undermines development and exacerbates inequality and poverty. Corruption distorts decision making in favour of projects that benefit the few rather than the many."
He added: "Higher growth in corruption is associated with lower income growth of the poor. Corruption affects the way money is allocated within the state budget, diverting expenditures away from less lucrative sectors such as health and education to high kickback areas."
According to Ujomu, despite the plethora of poverty alleviation programmes which past governments had initiated and implemented, by 1999 when the Obasanjo administration came to power, a World Bank's report indicated that Nigeria's Human Development Index (HDI) was only 0.416 and about 70 per cent of the population was vegetating below the bread line.
Consequently, government was compelled to review all the schemes with a view to harmonising them in order to achieve desired results.
About ten of these poverty alleviation programmes from the time of General Yakubu Gowon, General Obasanjo, Shehu Shagari, General Babangida to General Abacha, were mentioned. But most of those schemes failed.
Then came the Rationalisation and Harmonisation of Poverty alleviation and Agencies headed by presidential Tecnical Committee on the Review of the Programmes chaired by Professor Ango Abdullahi. Another committee on Youth Policy, Concept of Youth empowerment Scheme, and one on Blueprint for Poverty Eradication Programme.
"The findings and recommendations of these presidential panels were combined to form the National Poverty Alleviation Programme (NAPEP) in January 2001. The programme was aimed at eradicating abject poverty in Nigeria."
Among the four sectoral schemes NAPEP was structured was the Social Welfare Services Scheme (SOWESS) which aims at ensuring the provision of basic social services including quality primary and special education. It was suggested that diverted funds and those expended on intended bogus projects should be put back into developing our educational and health system that are presently comatose.
"In 2009, almost all these sectors embarked on one form of strike or the other to protest poor remunerations and lack of working tools and other infrastructures."
He explained that the target of NAPEP at the time it was set up was to completely wipe out poverty from Nigeria by year 2010. When NAPEP came on stream in January 2001, it was given a take-off grant of N6 billion which was used to establish NAPEP structures in 36 states, the FCT and 774 local government areas.
Part of the money was also used in the NAPEP employment generation intervention which translated o the training of 100,000 youths, attaching 50,000 unemployed graduates in various places of work, training of over 5,000 people in tailoring and fashion design and the establishment of rural telephone networks in 125 local government areas.
"Now, all these programmes have failed to lift up the vast majority of our people out of poverty. Indeed, more people have fallen into the dynasty of poverty due to the action and inactions of our leaders."
Concluding, Ujomu suggested steps to be taken if the country is to eradicate poverty, mindful of the scripture (Matt. 26:11) which says "the poor will always be among you," and the saying that "God loves the poor more and that is why they are so many."
He referred to the Chairman, Committee of Pro-chancellors of Nigerian Universities, Dr. Wale Babalakin, who had urged governments at all levels to tackle poverty through equitable and judicious utilization of the nation's resources.
Steps that can be taken include:
*Urgent need to improve on our infrastructures which have decayed.
*Proper allocation of resources to reduce waste and duplication.
*Generation of reliable data which will aid development.
*Accountability and transparency in both public and private sectors to ensure that dividends and benefits accrue to a larger percentage of the public.
Provost of Adeniran Ogunsanya College of Education, Mr. Hakeem Ajose-Adeogun, said that the country suffers more from intellectual poverty, leadership poverty and poverty of the mind rather than poverty of material or economic resources.
Chairman of the event, Chief (Dr) Hammed Ayodele Ibraheem, Ph.D, called for a mass action, social movement to correct the situation and our people liberated from the grip of poverty. And that citizens should fight for their rights, citing the Boston Tea party when Americans fought against double taxation and taxation without representation during British colonialism and most recently the Niger Delta militants.
"Corruption worsens poverty. Stay out of corruption. Don't give bribe to police, stand up for your rights. Uneducated councillors are paid far more than graduates," he said.
Registrar of the College, Barrister Bola Disu, referred to Israel, Japan, Switzerland who do not have natural resources at all, yet their people are comfortable.
"But in Nigeria where we have everything yet our people are living in poverty. Our problem is poverty of leadership. Next, we must all be determined to make a difference. Anywhere, put in your best. It's a lie to say God loves poor people."
Disu continued: "Those words in the scripture have been taken out of context – excuse for our leaders to loot the treasury and exploit our people. We can all be rich. God is omnipotent, omniscient and can make all of us rich."