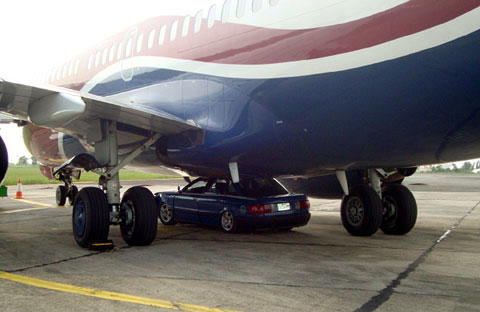 By John Ighodaro
CALABAR—The Cross River government has vowed to unmask those it described as fifth columnists who were behind last Wednesday's incident at the Margaret Ekpo International Airport in Calabar in which a car  driven by one Anieniok Elijah Okon crashed into an Arik Air plane t about to take off from the airport.
A statement issued by the state government and signed by the Commissioner for Information and Orientation, Mr. Edet Okon Asim, said  "government is, however, aware that last Wednesday's incident at the Calabar Airport is one of the series of grand conspiracies by detractors of government, who are obviously envious of the monumental achievements of the Liyel Imoke administration to make Cross River State a trail blazer in leadership and good governance among the comity of states in Nigeria."
He said "government is not unmindful of the activities of such fifth columnists and is working assiduously to unmask their identities and modus operandi at the appropriate time."
Asim enjoined members of the public to be "alert to the activities of saboteurs who are out to tarnish the rising profile of the state as the foremost tourist destination and emerging enterprising state in Nigeria."
He assured that security agencies were carrying out their routine investigations to unravel the circumstances that resulted in the incident.
"The government of Cross River State wishes to assure members of the public, tourists and air travelers to and from Calabar in particular, of their safety and security in spite of the unfortunate slight security breach that occurred at  Margaret Ekpo International Airport last Wednesday.
"Undoubtedly, Cross River State is the most serene, secure environment and would ever remain so be cause hospitality, peaceful disposition, warmth and good neighbourliness are the hallmarks of the people's character.
"Meanwhile, government urges the management and all relevant security agencies at Margaret Ekpo International Airport to be alert to their statutory functions and responsibilities, and ensure the smooth running of the airport to the enviable standard the government desires it to be.
"We thank members of the public and air travellers in particular for their show of maturity, understanding and wish to reassure them of our determination to stay focused while delivering the dividends of democracy as the foremost Nigerian state."