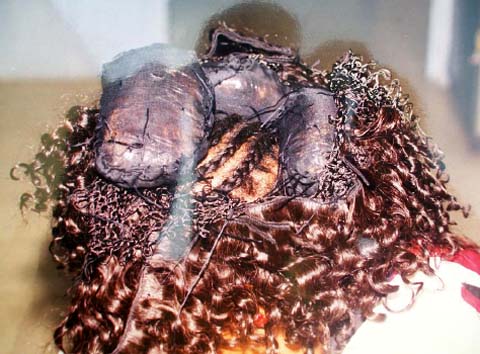 * Says she needed money for cancer operation abroad
By Albert Akpor
HAIR, they say is the beauty of a woman;  and any woman who is blessed with rich hair texture is not only a pride to herself,  but flaunts it jealously anywhere.  However, some like Ms Vivian Chioma Metu, a 39-year-old self -acclaimed economics graduate of Lagos State University and single mother, do not necessarily see anything spectacular about this work of nature and so, threw decency to the dogs and went ahead to criminalize it.
Recently, a bewildered female operative of the National Drug Law Enforcement Agency (NDLEA) at the Murtala Mohammed International Airport, Ikeja, Lagos discovered a large chunk of powdery substances which tested for heroine tucked in -between her hair.  The hard stuff which weighed 1.500kg was masterly concealed on the scalp of her head!
Ms. Vivian who was on her way to Guangzhou, China has successfully beaten all the security apparatus at the airport but luck ran against her after a female narcotic operative who admired her richly fixed hair approached her to know where she made it only to discover the strange substance.
On that fateful day, she had arrived the airport full of life;  having checked in her luggages earlier.  At the departure lounge and on an Ethiopian airline queue, Vivian radiated an uncommon glee and confidence, occasionally flogging around her neck and pampering her richly made hair with her long manicured nail.
What preoccupied her mind at the time was the $5,000.00 US that would grease her palm at the successful delivery of the substance unmindful of the fact that the worst moment of life was soon to take place.  At the end of the rigorous search of her luggage, she was given the green light to proceed for boarding and happily she cart-walked, passed some fierce- looking security operatives, smiled lustfully at them, waved bye to her friends who saw her to the airport and moved on.
Moments after, a female narcotic operative approached her and having exchanged pleasantries, casually requested to know the saloon on which the eye-catching hair was made.   As the operative got closer, Vivian became uncomfortable and simply said she made it in one of the salons on Allen Avenue, Ikeja.
The operative admirably  went further to feel the hair and in the process felt a hard portion.  She stopped and became curious.  Asked what was the bump on her scalp, Vivian simply muttered that she had burns on her scalp while fixing the hair and therefore, decided to cover the portion with a black cellophane.   Dissatisfied, the operative excused her to a corner and of course, the bubble got burst.  The bumps had in them,  hard stuff which later tested positive for heroine.  She was promptly arrested and she broke down in tears.
At the airport office of the anti-drug agency, Vivian in an emotion- laden voice confessed that she could not have taken to such criminality but for her ill-health adding that she needed some money to undergo a cancer operation.  She claimed that she had spent so much on her health and that she was tired of borrowing.  "I know that my friends and family members will be disappointed at this but life has to go on.  I need money to pay for a cancer operation abroad.  He who is down need fear no fall.
I am an international business woman but I have been suffering from this terminal disease for a long time now and doctors said it could be operated on overseas.  I need money for this and since that huge sums can not be sourced easily, I have to use what I have to get what I want.  The hair belongs to me, but my health is much more important.  The man I met for assistance told me to deliver this to somebody in China and make good money for myself; and that was it.  I have spent so much money that I no longer have any saving but as it is now, I think I have to resign to fate,." she lamented.
The Airport Commander of the National Drug Law Enforcement Agency (NDLEA), Alhaji Hamza Umar who described the discovery as shocking however, said this was not the first time women were concealing hard drugs in their hair.
He said this attest to the fact that drug traffickers are running out of tricks following the agency's efforts at fighting trackers and barons alike to a stand still.   "This is not the first time drug traffickers and their sponsors are concealing drugs in their hair.  They are definitely running out of tricks due to our counter efforts.  This is good for the country because it clearly shows that no drug trafficker will go unpunished."