By Bose Adebayo
It started as a round table discussion last Monday but it soon became a peaceful protest with many of those present brandishing placards and singing solidarity songs to express their grievances and press home their demand.
But what was their grouse? They had told all cared to listen of the financial hardship afflicting them since their busines premises were shut down on the orders of the Lagos State government. "Since my hotels were shut down, my two kids have stopped schooling while I find it difficult to feed my family. I don't want to become a beggar overnight. I don't want to rob or steal but I am fed up with the present development in the hotel sector," lamented Mufutau Olorunnisola.
"We are not people of questionable character; we don't believe in  using arms to fight our cause. But we strongly believe that victory will ours in the end," they chorused.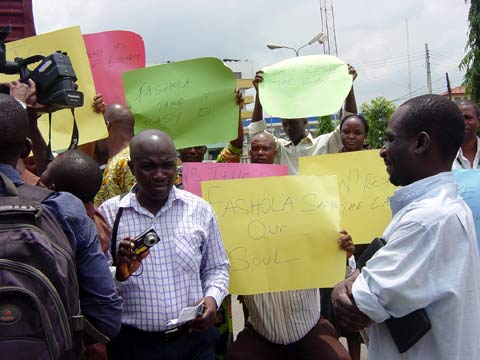 The incident which took place at the Oranmiyan Hall of Airport Hotel, Ikeja attracted no fewer than 500 hoteliers in Lagos who came to protest what many of them described as "double taxation and illegal sealing up of hotels" in the State.
It would be recalled that about 20 hotels  were sealed up by the Lagos State Internal Revenue Service over alleged tax liability for year 2009.
As far as the hoteliers were concerned, the action was not only illegal but detrimental to their interest and wellbeing. And it is for this reason they are calling on  their President to initiate a roundtable meeting with the government to enable them express their feelings on the contentious matter.
"We have a caring governor in Lagos State who has a listening ear; we can approach him and tell him what we a re passing through and I believe he will do something concerning this case. Hoteliers are suffering in Lagos State and our source of livelihood is being threatened; if care is not taken, many of us will become beggars on Lagos roads," said Yemi Ogungbaigbe.
The hoteliers lamented  epileptic power supply and shortage of potable water in the state, which they said were the major problems affecting the industry before the recent clamp down by government.
"Most of our profit goes to diesel because of unavailability of water and electricity in the state. Our hotels have been shut for the past three weeks; all I do now is to roam the streets. An idle hand is the devil's workshop. Can you imagine what will happen if the bread winner ceases to provide bread ?'' Babatunde Olanade queried rhetorically.
"I feel a great pain as I try to come to terms  with the event unfolding in the hospitality sector. Anything that could make our business to collapse should give us cause for concern. It is sad that this government believes in the rule of law but refuses to practice it. We have decided to go to court to fight this double taxation; we shall not bow  to any act of intimidation or harassment.
The action of the government is an attempt to break our ranks or send us out of Lagos State. Lagos State belongs to us; we are not going against the law to make money, we shall not engage in robbery or 419 because this is the only business that provides food on our table and we don't want the government to send us out of business," he said.
Responding, Aare Tola Odunuga, who is the President of Lagos State Hoteliers Association, described the clamp-down by the government as illegal and assured his members that justice would be done. "I stand before you to read this short address with sad feelings over the recent event, that is the illegal sealing up of our hotels for failing to pay the fees imposed on us in respect of Hotel Occupancy and Restaurant Consumption Tax.
As at now, apart from Value Added Tax of  five percent, hoteliers also pay the following: Nigeria Tourism Development Corp (NTDC), parking permit, personal income tax-payable by operators and their staff members, tenement rates on business premises, land use charge on business premises, fire safety service fee, food handlers permit, fumigation permit, advert permit and business premises permit, among others.
In addition, we pay heavy monthly bills for epileptic electricity supplied by PHCN, hence we rely heavily on the use of stand-by generators- a huge percentage of our income is spent on diesel consumption and provision of bore holes for water supply, apart from payment for private security guards for our hotels. The present action by Lagos State Internal Revenue Service is not only illegal but also aimed at breaking our ranks. With God on our side, it shall not be possible," he said.
Odunuga urged hoteliers to work in unity regardless of the present challenge. "Let us speak with one voice and say no to this law until the outcome of the case at the Federal High Court, irrespective of the amount of intimidation, harrassment and coercion by officials of the Lagos State Internal Revenue," he added.