By Emma Amaize and Akpokona Omafuaire
THE Joint Task Force (JTF) on the Niger-Delta have destroyed fresh 500 illegal crude oil refineries and arrested six suspected oil thieves at Egbekebor and Gbelekumor communities in Delta State.
Also, several pumping machines used by the bunkerers, drums of suspected crude and refined products were also seized.
Sector 1 Command of the JTF, under the leadership of  Col. Jamil Sharham led journalists to the scenes of the oil bunkering Wednesday and  paraded the suspects.
It was observed during the visit that aquatic life around the operational areas of the bunkerers has been destroyed beyond imaginable sense, while families engaged in the  business have relocatred from the area because of arrest by the JTF.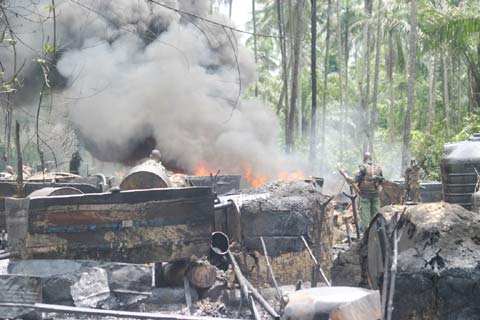 It was also noticed that several local boats, referred to as "Contonou boats",  which could carry over 300, 000 litres of crude, the local factories were burnt by the task force while drums of various sizes with products littered the area, spanning over three kilometers.
It was gathered that the JTF embarked on destruction of the structures and equipment to forestall the return of the operators to the business.
According to Col. Sharham, "the JTF under Brig. Gen. Sarkin Bello has zero tolerance for bunkering and refining so we have no option but to combine all forces and fight it headlong".
He said "I mobilized my men for the operation, we arrested six  persons, the operation will continue till illegal bunkering is brought to zero, we will do everything to bring illegality down. We are taking the battle to where they get the crude because if they (refiners) do not have crude they cannot refine".
Col. Sharham said crime does not pay and advised bunkerers to desist from the business and rather, gear their energies towards improving the national economies instead of destroying it.
Investigations were on as the time of filing this report Wednesday to unmask the fleeing operators and collaborators.