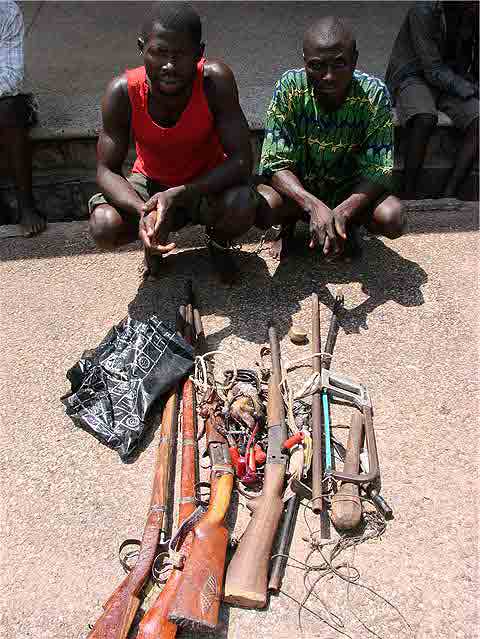 ••• As  police parade 36 suspects, recover 24 assorted arms, N6m  ammunition
Ola Ajayi, Ibadan
The Commissioner of Police, Oyo State, Baba Adisa Bolanta last week celebrated what was tagged, 'harvest of arrests of criminals' in the State when he paraded no fewer than 36 suspected criminals arrested at different locations.  During the arrests, the command also recovered assorted guns, arms and ammunitions.
Given details of how the arrests were made, the Police boss said that on the 4th of March, 2010, at about 11pm, a team of surveillance anti-crime patrol  attached to Mapo Division intercepted one Adesina Dayo of Agana's compound, Osogbo, Osun State with one locally- made single- barrel pistol, two live cartridges, five (5) nokia handsets, one reflective jacket with Etisalat inscription, the sum of two thousand, five hundred naira only. (N2,500.00).
" Further interrogation of the suspected robber led to his confessional statement which revealed that he belongs to a gang of four armed robbers and that on the same date at about 9am, the gang carried out a robbery operation at Ile_Tuntun, Iyana Church, Egbeda area of Ibadan where some valuables were robbed. On the receipt of this information, detectives swung into action and arrested a member of the gang who gave his name as one Jimoh  Ola of Iyana Madina Tabantari area of Elekuro, Ibadan and the following items were recovered from him as his own share of the robbery loot: two (2) locally -made double barrel pistols with ten(10) small live cartridges, two (2) big live cartridges, eight various handsets, some jewelries, one Mitsubishi gallant saloon car with reg. no. CN 621 KTU.
"Intensive investigation led to the arms manufacturer who has been supplying arms to this gang. The illegal arms manufacturer gave his name as one Simiyu Faleti of Oja-Igbo area of Ibadan. A search conducted at the workshop of the said Simiyu Faleti led to the recovery of one single- barrel pistol, one double- barrel pistol, one single- barrel gun, one live cartridge, two (2) expended cartridges, some iron pipes and other manufacturing tools. Days later, investigation equally led to the arrest of the gang's armourer, one Suara Liasi a.k.a "Gbogbo-ejo"of Oja-Igbo area of Ibadan. Found with him are two (2)locally made, cut-to-size single barrel guns, thirty-one (31) live cartridges, two (2) dane guns, one skull suspected to be human skull, one big matchet and some criminal charms".
• • • End of the road for roving robbers
The Police boss further disclosed that on the 2nd March, 2010, at about 1pm, policemen attached to Mapo Division while on township patrol,  intercepted two men on a commercial motorcycle carrying a bag. On searching the bag in their possession, two locally- made pistols were found concealed therein, hence the two men were promptly arrested and taken to the station for interrogation.
On interrogation of the two suspects who gave their names as one Idris Olaide 'm' of Ayeye area Ibadan and one Kamoru Bello of same address, they confessed to have been the brains behind some robbery operations around Total garden area of Ibadan, Apata area of Ibadan and Edun Abon in Osun State. Further investigation of the duo led to the recovery of the under listed items: Twenty six (26)rounds of live cartridges, Glo recharge cards valued about ninety_six thousand, four hundred naira (#96,400.00.),
O'Net recharge cards valued about twenty four thousand, four hundred naira (#24,400.00.), Visafone recharge cards valued about one thousand naira(#1,000.00.), Four assorted criminal charms, A Bag containing cloths, Mitsubushi Lancer S/Car with Reg. No. AA 829 MNY., suspected to be stolen and Numerous Vehicle particulars.
Equally recovered from one of the suspects, Olaide Idris are the following items:Â  One sledge Hammer,
Sixteen new Glo sim packs, Four criminal charms and Two car keys.
However, two victims who were robbed sometimes in November, 2008 came to identify some of the robbed recharge cards and claim ownership while the suspects admitted they truly robbed the said victims.
Robbers smoked out of their hideout, 14 handsets recovered
Mr. Bolanta disclosed also that sequel to a tip off, a gang of armed robbers terrorizing Ibadan and its environs were in a hideout along Oranyan area of Ibadan.   Anti_crime patrol policemen swung into action and stormed the scene where the following persons were arrested: one Adesina Yusuf a.k.a '70', an ex_convict, one Bode Olufidipe 40yrs a.k.a 'Anex' and one Sola Akintomo 22yrs. On interrogation of the arrested suspects, they confessed to have robbed some people of their valuables at New Airport road, Ibadan. Some of the items robbed are: four handsets, some recharge cards, jewelries and thirty thousand naira (N30,000.00) only. The robbed items were however recovered from them.
In a related development, the Police boss said that based on information, notorious handbag snatchers were rounded up in their hide-out at Ajegede/Ode_Aje area of Ibadan. The arrested suspected criminals gave their names as one Taye Yekini, a.k.a 'Itumo'35yrs, one Gafari Olajumoke a.k.a 'Amole', 30yrs, Hammed Shuaib a.k.a 'Oriyomi', Saheed Yekini a.k.a. 'Ijoba' and Kazeem Lawal. All the arrested suspects confessed to be specialists in hand bag snatching while on motorcycles. Further investigation of the suspects led to the recovery of the following items: one locally- made pistol with one cartridge and ten (10) assorted handsets believed to have been stolen from their victims.   This same gang also confessed to have robbed a beer parlour operator of the sum two hundred thousand naira (N200,000.00).
••• Notorious bank robbers, others nabbed
Furthermore, the Police boss said that on the 20th February, 2010, at about 4pm, policemen from Idi_Aro Division received information that some hoodlums were at their hideout sharing items suspected to be their loot.
Based on this, the policemen stormed the scene and got one Adesina Yusuf 'm' Alias Sola Akintomo and two others together with the following exhibits (i) Five handsets (ii) Five hundred naira Zain card (iii) Two hundred naira Visafone recharge cards (iv) One thousand naira Glo recharge card (v) five hundred naira MTN recharge card (vi) One Star pendant (vii) One Gold ring (viii) One Skye Bank ATM Card (ix) An iron rod wrapped with black nylon to look like a gun(x) One male wrist watch, one super master, VCD tape, two speakers and one DST VCD players.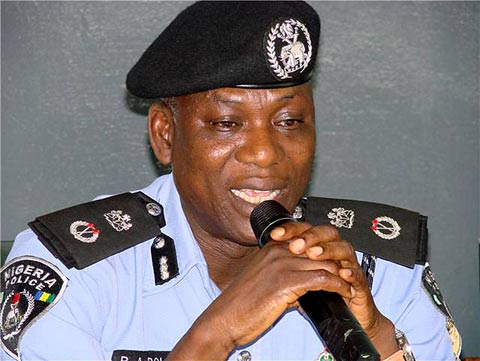 The arrested suspects, Adesina Yusuf 'm' Alias 70, who is an ex – convict claimed to have participated in a Bank robbery at Akure in Ondo State and that he met one Bode Olufidipe in prison custody while serving their jail terms and that it was in the prison they formed a new robbery gang up with one Sola Akintomo.. The arrested robbery suspects all confessed to the crime and the above robbed items were recovered from them..