The Yusuf Grillo Pavilion in Ikorodu will on April 3 celebrate the contemporary Nigerian art icon, Dr Bruce Onobrakpeya, as it's star artist.
Last year at the official opening of the gallery, the gallery celebrated Professor Yusuf Grillo, after whom it was named. The event, held on April 11 (which was a Saturday before Easter Sunday), attracted art lovers from both within and outside Lagos. The keynote speaker was Professor Babatunde Lawal from the US-based Virginia Commonwealth University.
Another US-based Nigerian art critic, Professor Dele Jegede, will deliver the keynote lecture this year.
Bruce Onobrakpeya was born of Urhobo parents on August 30th, 1932 at Agbarha Otor in Ughelli Local Government Area of Delta State Nigeria.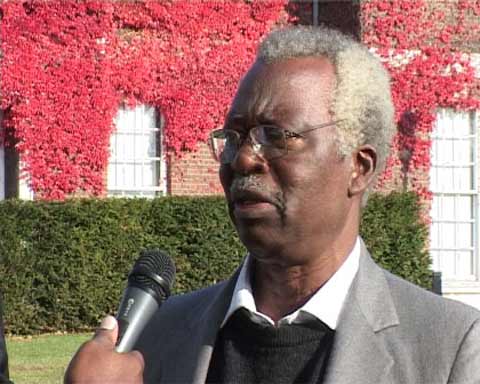 He received his primary Education at the Baptist School, Oke- Eruvbi near Benin City; the Native Authority School, Ughelli; Eweka memorial School Iyaro Benin City (1941 – 1942); Ziks Academy School Sapele (1943 – 46), and Saint Luke's CMS School (Sapele 1947). He had his secondary school education at Western Boys High School (Benin City) where he was introduced to art as one of the secondary school subjects taught by Edward Ivehivboje.
While a student, he attended drawing classes taught at the British Council Art Club, Benin City. Onobrakpeya was also inspired by watercolour paintings of Emmanuel Erabor and a lecture given in Benin City in the 1950s by Ben Enwonwu, art advisor to the Nigerian government. On completing his secondary school education, Onobrakpeya was hired as an art teacher at the Western Boys High School, Benin City (1953 – 56).
In 1956 he left for Ondo in Western Nigeria, where he taught at the Ondo Boys High School. In October 1957 Onobrakpeya was admitted to the Nigerian College of Arts Science and Technology, Zaria (now Ahmadu Bello University), where he studied Fine Arts under a Federal Government Scholarship. It was here he began to experiment with forms in relation to Nigerian folklore, myths and legends.
According to the artist, while formal training in an art school laid the foundation for his technical skills it was the Zaria Arts Society (where members discussed the role of art in a developing country like Nigeria) that shaped his perspectives as a professional artist. The search for a personal idiom of expression that would project a Nigerian identity in his work led him to seek inspiration from traditional African art, religion and mythology.
Currently, he is involved in a series of workshops called Harmattan Workshop where artist from around the world come together to interact and exhibit their works. Today with over 10 editions it has become a pilgrimage of sorts, with an average attendance of 50 artists each year. The workshop, which is being organized by the Bruce Onobrakpeya Foundation, an outfit he established to assist in raising funds for the promotion of visual arts practice.
Professor Dele Jegede, cartoonist, painter, art historian, art critic, and art administrator, obtained the BA (Fine Art) degree (First Class Honors) from Ahmadu Bello University, Zaria, in 1973. In 1979, he proceeded to Indiana University, Bloomington, U.S., where he studied with Roy Sieber and obtained the MA and Ph.D. degrees in art history. Since the seventies, he has played the role of scholar-artist: teaching at universities, conducting research, and holding group and solo exhibitions. He has taught in diverse environments and served in academic, professional, and leadership capacities locally and internationally.
In 1974, in the era of Alhaji Babatunde Jose, he began his career as Art Editor of the Daily Times. As early as 1972, his "Pocket Cartoons" had appeared in the Sunday Times. From 1974 to 1979, and intermittently between 1984 and 1989, he published innumerable cartoons in Times International, Lagos Weekend, Daily Times, and Sunday Times. From July 1991 to February 1992, he initiated and edited the country's first full color center spread cartoons—"Funny Cords"—in the Sunday Concord.
He joined the faculty of the University of Lagos in 1977 as Junior Research Fellow at the Center for Cultural Studies and left in 1992 as Director of the Center. Between 1989 and 1992, he served as President of the Society of Nigerian Artists and in 1993, he relocated with his family to the United States and joined the faculty of Indiana State University, where he was until 2005.
He was Fulbright Scholar at Spelman College, Atlanta (1987); Senior Post-Doctoral Fellow at the National Museum of African Art, the Smithsonian Institution, Washington, DC (1995); President, Arts Council of the African Studies Association (ACASA), (1996-1998); Professor and Chair, Department of Art, Indiana State University, (2002-2005); and, since 2005, Professor and Chair of the Department of Art, Miami University, Oxford, Ohio. Professor Jegede serves on visitation teams to art institutions across the U.S. as a member of the National Association of Schools of Art and Design, NASAD. He also serves on the Board of the association.
His research interests straddle the two worlds of studio practice and art history. As art historian, his research is concerned with the contemporary and popular arts of Africa and the African Diaspora, with particular focus on the seamlessness of creative boundaries in the city of Lagos, Nigeria, possibly Africa's craziest city.
As a painter, his creative research draws on iconic elements in African and Western cultures. In recent years, his paintings have explored the hip-hop culture and the fascinating contradictions that it projects. He has had numerous solo and group exhibitions and participated in several conferences at national and international levels, and has work in private collections in Nigeria and the U.S. His major exhibitions in Nigeria include "Paradise Battered" (1986) and "Eko Re E" (1991), two critical exhibitions that thematized issues of poverty, urbanization, and the plights of the political (under)class in Nigeria.
As a teacher, Professor Jegede has developed and taught courses in African and African American art and culture, and favors a teaching approach that promotes experiential and hands-on learning. He has presented papers at several conferences and serves on the advisory board of major publications.
He has published widely in his field and curated major shows, including "Women to Women: Weaving Cultures, Shaping History," (Terre Haute, 2000), and "Contemporary African Art: Five Artists, Diverse Trends," (Indianapolis Museum of Art, 2000).
The innovative DC-ROM, Five Windows into Africa, a 2001 project in which five professors collaborated on aspects of African art and culture, contains dele jegede's "This is Lagos;" it was published by Indiana University Press in 2001. His most recent book, Encyclopedia of African American Artist: Artists of the American Mosaic, was published by Greenwood Press in 2009.