By Evelyn Usman
Just when families of passengers of an east- bound luxury bus which was on its way to Lagos are smarting from th irreparable loss of their loved ones occasioned by a robbery attack which left many dead and scores critically  injured , the matter raised its ugly head again , with claims and counter- claims on when and how it all happened.
UNEXPECTED ATTACK
About forty-one passengers on board the Young Shall Grow  Luxury bus with plate number XF 285 AKD, apparently left Enugu without th e premonition of danger ahead. However, on reaching Ijebu-Ode , the hitherto smooth journey reportedly witnessed a violent development with the unexpected visit of armed bandits, gripping the helpless passengers with trepidation.
In this interview with Crime Alert, driver of the luxury bus, Okechukere Okafor, an indegene of Ifite village in Oyi local government area of Anambra state, revealed how the robbers stormed. His claim , further revealed what could be assumed as a true picture of what transpired, as he maintained it was the driver of an on coming truck that ran over the passengers who were earlier forced to lie on the highway by the bandits.
Excerpts;
" I left Enugu on July 31, 2009 at about 8am in the morning . But we encountered traffic on the road particularly, at Ore where we spent several hours without making headway. The traffic was so tensed that we remained in a particular position for hours and it was worse because of the heavy down pour.
As we approached Odogbolu along the Ijebu-Ode /Shagamu expressway, I sighted a barricade ahead. I applied the break to  be sure of what it was and before I knew it, I started hearing gun shots . I decided to stop at that point because one of the bullets hit the vehicle air tank and I could not move any further.  Quickly, I opened my front and back doors wanting to jump down.   One of the robbers shouted at me that if I moved that he would shoot. I forcefully opened my front door and the impact of it made him to loose balance before I pushed him hard and fled into the bush .
Inside the bush, I began to crawl , I crawled about half a pole . I can not tell what happened thereafter, either to my conductor or the passengers because like I told you, I opened both the front and back doors mainly to allow every one run into the bush.
I was in the bush until 6am before I came out. I saw a small bus and begged the driver to help me to the station . At the station I reported the case after which policemen followed me . It was when I got there that I saw bodies of people on the ground
I have been  working as a driver for Young Shall Grow for seven years and have not encountered anything like this before . I spent one week in the cell before I was released on bail.  Reports that I was the one that ran over them is not true.  . I cannot imagine doing that to my fellow human beings.   I would have dammed the consequences", he stated.
I RAN INTO HUMAN BEINGS THINKING IT WAS A BARRICADE
The driver of an oncoming vehicle also involved in this gory and unfortunate incident that claimed a total of  19 passengers including 6 females and 13 males, some of which body parts could not even be identified with the other, narrated his own side of the story. The driver, Osayande Idahosa of No. 1, Ewetubo Egbe Estate, Benin City gave a mind- bugling detail of how, in his bid to escape, he bravely drove over a supposed barricade, he later discovered to be human beings.
"According to him, " I left Benin that day for Lagos with my conductor and a female passenger , with loads of garri.  I guess it should be about 8pm then because it rained.   I could not drive very fast and I was also taking my time to watch ahead. Before I approached Ijebu-ode/Shagamu road, I watched to see if there were buses coming from the other end, that way I would be able to know if anything was happening. I sighted a vehicle coming and presumed all was well .
But I was wrong because on ascending the hill, I sighted a luxury bus stationed, followed by sounds of gun shots . I slowed down and attempted to reverse but when I watched through the rear, I noticed the robbers were many, say over twenty. Again I looked ahead and noticed that the barricade was not so high. That was when I decided to go forward and climb it . Immediately I climbed the barricade , I swerved into the bush because I bent my head to avoid been hit by bullets.
As soon as the vehicle swerved into the bush, I ran as much as I could with the robbers swearing to kill me if they catch me.  . What saved me was a directive from one of them to those that were chasing me to go and check what was in my truck. I walked and crawled far into the bush until l I stayed quietly in a position . Even when insects stung me, I could not hit it in order not to make any noise that might attract the robbers.  At a point ,I started sleeping and the next thing I heard faintly was somebody saying, "he is here".  Thinking it was the robbers, I just raised up my hands only to realize they were mobile policemen and I also realized it was morning.
They robbed till 6am with some inside the bush and on the road. It was when I came out that I realized that it was human beings that I ran over the previous night . At the station, I was kept there for four days before I was bailed.
But to my surprise, three days ago (last Thursday), my phone rang and I was asked to report to Ijebu-Ode Police Station.   I went and the next thing I heard was that my attention was needed in Abuja. That got me scared and when I got here, I heard some people saying the incident was reported to have happened in February. It is not true, it happened last year July, precisely on 31st.  I was so shocked after the incident that I refused to eat meat for a very long time. The experience is better imagined than experienced . To think that I actually ran over human beings is enough psychological trauma for me".

KEEPING THE RECORD STRAIGHT
However, a Police report detailing the date and how the incident occurred shows that "On the 31st of July 2009, at about 11. 30am, a luxurious bus with registration above, loaded with passengers traveling from Enugu to Lagos were attacked by a gang of armed bandits at a spot between Federal Government College, Odogbolu and Babcock university along Ijebu-Ode/Shagamu expressway.
"That during the attack, the suspected armed robbers ordered the passengers of the luxury bus out of the vehicle and made them to lie face down on the expressway".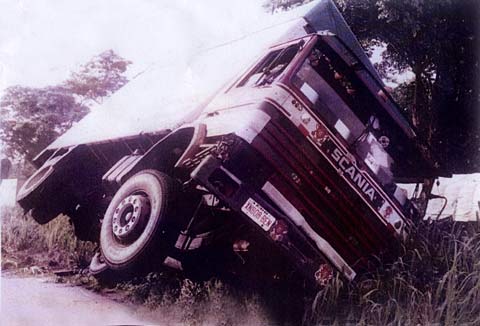 "That an on-coming truck with reg. XN 808 BEN, driven by one Osayinde Idahosa of Ewetube Egbe Estate, Benin City, who refused to be stopped by the hoodlums, crushed some of the passengers to death".
Continuing the report with SR: 3000/OGS/V.T/547 states, "That a total of 19 passengers of the luxury bus which includes 6 females and 13 males were crushed to death by the truck and that there was no Police escort attached to the luxury bus as confirmed by the driver, Oke Okafor who survived the incident".
"That some of the ten corpses have been collected by their relations for burial after proper identification and documentation and that some of the corpses were crushed beyond recognition and yet -to- be identified or collected by their relations or kinsmen".
While noting that, "The case of robbery was transferred to State CID; Abeokuta for discreet investigation and the Motor Traffic Division, Obalende handled the traffic aspect of the case diary No. RRA/49/09 opened for the case, the report said "That the case file in respect of the traffic aspect has been duplicated and forwarded to the Director of Public Prosecution (DPP) for legal advice"
It added that dragnets have been spread all over the nooks and crannies of the state for possible arrest of the suspected armed bandits and that adequate police presence has been maintained along Shagamu/Ibadan expressway to forestall re-occurrence of such incident.