By Bose Adebayo
WHEN the rain poured in torrents in most parts of Lagos State last Tuesday evening, many Lagosians sighed with relief. They relished the fact that it came with a refreshing coolness after they have had to endure a spell of unusually hot weather. But for most residents of Debo Bashorun Street, a stone throw from the popular Faseun Road, near Century Bus-stop, Okota, the last thing they wish for now is another rainfall.
For these Okota residents that rain was  nothing but a curse after a resulting flood almost sacked them from their homes. For instance,  a teenager, Ngozi Akalonu lost her set of teeth, while scores of school children who were on their way home from school were almost swept away by flood.
On the cause of the flood, the residents are ironically pointing accusing fingers at a construction company Astromatic Nig. LTD, which started work in  the area two years ago on behalf of Lagos State government to construct a drainage on both sides of the street.
So, the residents are sending a Save Our Soul appeal to the Lagos State Governor, Babatunde Fashola to come to their aid before the next rainy season gets into full swing. In fact, they informed that they had earlier written and sent a number of letters to the Permanent Secretary, Ministry of Works and Infrastructure, which have so far not yielded the desired response.
They alleged that after the drainage  reached completion in June 2009, the construction failed to fulfil the promise it on road rehabilitation as the top layers of the soil meant to prevent erosion in the area was allegedly removed by the company to sell to neighbouring communities.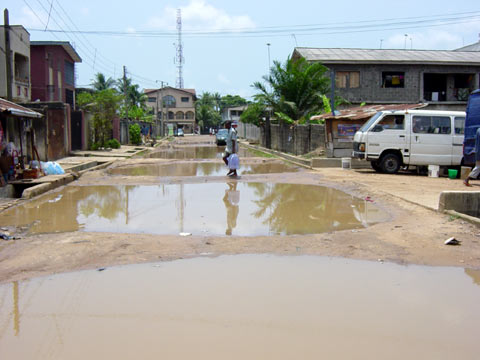 Vanguard Metro was reliably informed  that some top officials of the construction company now do brisk illegal business  selling the top soil.  There was also  allegation that some officials from the Lagos State Ministry of Works aided the construction company in signing a fake document showing the project to be completed, thus enabling the contractor collect a full payment for work not fully done.
When Vanguard Metro visited the area last Thursday, residents of Debo Bashorun Street particularly expressed apprehension about several gullies there which they said could become a death as they are so deep that people could drown in them when it rains heavily. For now car owners park their cars in far away places before they later trek to their various homes, while children of school age and the aged stay at home to avoid falling into the gullies.
Some traders on the street lamented that the flood which had more or less become a mini-river had seriously affected their businesses as most of their distributors now avoid the area like a plague.  "You can see the ditches everywhere; most of our distributors have run away because the road is in a bad shape," Mrs Abimbola Adigun and Temitope Akintunde complained.
A pure water distributor who spoke with Vanguard Metro on Fasehun Road said his employer had warned him to stay away from Debo Bashorun. "Our Oga has warned us to stop our distribution on the street because of the flood. What we do is to park on Fasehun Road and put a call across some of them. They would have to come and carry it on their head because the road will not allow them to use a wheel barrow," said a marketer who simply gave his name as James.
Some aged ones also has cause to lament. "Moving round the street has become a problem to us unless we want to fall inside the ditch," said a septuagenarian, Pa Ayanwole Jacobs.
Secretary to the Community Development Association, Debo Bashorun-Odunlami Ibrahim Amoda Residents Association, Mr. Sawya Omire said the road had become a nightmare to the residents. "The road was okay before the construction took place. The drainage was completed since June 2009 and we were told they wanted to fix the interlocking tiles. As a result, they removed the surface of the soil which became so deep and lower than the gutter itself. The whole place becomes flooded each time it rains. The flood is usually deep enough to swallow some vehicles. We have been to Alausa on several occasions but there has been no response. Our little ones cannot go to school while office workers employ one strategy or the other   before they can move on the road," he said.
Chairman of the association, Pa Adekunle Adegbite said residents now suffer agonies as they go about their day to day activities. "It is a great shame and a sad episode. It is well over two years now. It is disastrous. Apart from the usual bottle necks, there's also an environmental hazard and the stagnant drain aids malaria infection. The government should help us beg the contractors to address the situation," he pleaded.