By Taye Obateru, Jos
A chilly Sunday morning with bright sunshine in Jos the Plateau State capital was something to relish as the allure of getting up to warm up in the sun increases.
You have just returned from church and was looking forward to enjoying the rest of the day when you get a text asking you to confirm the report of another outbreak of violence. You rush out to look into the sky for any sign of smoke from burning houses which has become the trademark of violence in the city, but there was none. You make some frantic phone calls to those around the reported troubled area but they were not aware so you reply the text that it must have been a false alarm.
However, a few minutes later, one of those you called earlier called back to confirm that people had started running helter_skelter and that something must be truly amiss. Not again, you shouted involuntarily. From that moment, the phones literarily stopped ringing.
The burning, looting of property and killing of people most of them for doing nothing other than belonging to a particular ethnic group or religion started again. In a jiffy, text messages and phone calls went round that Christians or Muslims were being attacked as the case may be, and so spread the violence. 'When will this end'? was the chorus on many lips.
What started as a minor dispute between two groups in Nasarawa Gwom area on Sunday which was thought to have been contained by Monday as security forces took over the area, however, spread like wildfire to other parts by Wednesday reaching a crescendo many are saying might be unrivalled by previous crises  in terms of the number of deaths and destruction.
Many more lives many innocent, and property have again gone with the violence in what is fast becoming a recurring decimal in the once peaceful city. Some of those killed were travelers merely driving through Jos but were unfortunate to run into the rampaging mobs. Depending on which side the mob belongs, being a Christian or Moslem could earn one instant death for having the misfortune to be passing by at such a time. Not less than eight people were said to have met their untimely death in such circumstances.
Like the previous crises, various versions as to the actual cause of the latest violence are being peddled. The Plateau Commissioner of Police, Mr. Greg Anyating at a press briefing Sunday evening blamed it on a group of Muslim youths whom he said attacked Christians as they worshipped. According to him, "This morning, there was a breach of the peace by a handful of Muslim youths who without any form of provocation whatsoever started attacking people who were going to church particularly around St. Michael Catholic Church in Nasarawa Gwong area".
This was countered the following day by the Jos North Muslim Umah which instead put the blame on some Christian youths stopping a Muslim from reconstructing his house which was destroyed in the last crisis. "Information available to us indicated that the crisis started at Dutse Uku, Nasarawa Gwong, Jos where one Kabiru Muhammad, a Muslim went to rebuild his house which was destroyed as a result of the 28th November 2008 crisis in Jos.
The Christian youths in the area insisted that the area is now exclusively a Christian area as such they will not allow any Muslim back", their spokesman, Musa Mudi said at a briefing.
By Monday, the situation appeared to have calmed down with the prompt deployment of combined police and military men to the flash points, but it would seem the fighters were not done yet. They cleverly avoided places manned by the security men and moved in to unleash terror on innocent people, burning some alive or first hacking them to death before setting their houses ablaze. One of those killed in such a manner was 51-year old Abraham Dare, elder brother to Sunday Dare, former Head of the Hausa Service of the Voice of America (VOA).
He was said to have gone to their family house in Nasarawa area where he resides to pick something after initially escaping from there at the threat of violence, but was trailed by hoodlums, stabbed to death before the house was razed.
His charred remains were what his family found later. Three students of the Nigerian College of Accountancy, Jos undergoing post_graduate studies from outside the city were reported to have been killed by a mob after they identified them as belonging to a particular religion.
Saturday Vanguard learnt that as the news of the death toll and the level of destruction spread to other parts various groups along ethnic and religious divides mobilized and carried out reprisal attacks in their areas, in most cases catching security agents who did not envisage the development unawares.
Those in the minority in particular areas escape only to return when their assailants have relaxed to launch their own attacks. Many innocent families in places like Bukuru, Rayfield and other places where previous crisis did not touch were victims this time around as Christians and Moslem youths insisted on sending away anyone not belonging to their faith in areas dominated by a particular religion.
In the true spirit of statesmanship two former civilian governors of the state, Chiefs Solomon Lar and Joshua Dariye, despite previous differences with Governor Jonah Jang, held a closed door meeting with him on Monday and came out to condemn the violence promising to work with the state government to restore permanent peace to the state.
Speaking after the meeting, Lar described the latest violence as unfortunate coming at a time all thought peace had returned to the state. According to him, "It's very unfortunate. I condemn it in its totality and I want the police to investigate the incident and expose those behind it." He said those out to bring set back to Plateau State would not succeed adding that it would regain its glory as a peaceful state.
Also commenting, Dariye described the situation as disturbing hence they resolved to support the state government in getting to the root of the matter and restoring peace to the state. He said everything must be done to expose and punish the perpetrators. Another former governor of the state, Ambassador Fidelis Tapgun appealed for calm urging the people not to resort to violence to resolve differences.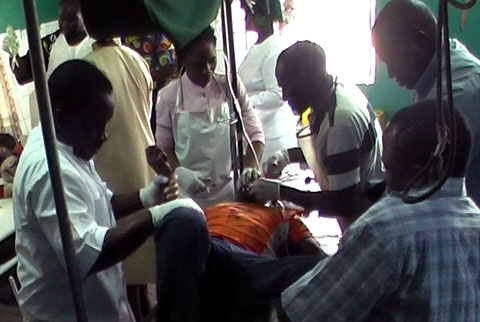 In a chat with Saturday Vanguard, he described the violence as regrettable and commended security agencies for their efforts to restore normalcy. "It has become evident from past crises that violence cannot solve any problem. I appeal to citizens to embrace dialogue for resolving disputes. I sympathize with all those affected especially those who lost loved ones and pray that God will comfort them", he said.
The latest violence also disrupted the first semester examinations of the University of Jos which was on at the time. Determined to avoid the situation in previous crises when some students of the institution got caught in the violence, the Vice Chancellor, Prof. Sonni Tyoden promptly announced a suspension of the examinations. He, in a statement, advised students living within the campus to remain within while those living off_campus should keep away from the troubled spots.
As in the past, the latest violence has attracted condemnation from various quarters in and outside of government. However, there are those who believe that the failure to back such rhetoric with action especially by government is responsible for the recurring crisis.
A Jos based civil group, the League for Human Rights is in this category. The body in a statement signed by its Director, Shamaki Gad Peter said punishing perpetrators of previous crisis would have made a difference.  "Probably, if the state and federal government had punished or prosecuted the perpetrators of the previous crises in the state, we wouldn't have been going through what we are going through now", it said.
For now, the situation remains tense even as calm gradually returns. Although the deployment of more police men and soldiers to the state has substantially improved the security situation, the menace of fake soldiers said to be going round to secretly attack people is the latest source of fear.
People in some areas were said to have gladly received the presence of those they thought were genuine soldiers only to be attacked by the soldiers. A reliable source confirmed to Saturday Vanguard that about 14 women were taken to Plateau Specialist Hospital on Wednesday after they were attacked by fake soldiers.
However, the Chief of Army Staff, Lt. Gen, Abdulrahman Danbazau who was in the state to assess the situation promised that something was being done to tackle the menace.
The guns might have stopped booming and the sky clear of thick black smoke from burning houses for now, but will the truce last or is it momentary as we have seen in the recent past? This remains the jigsaw puzzle.