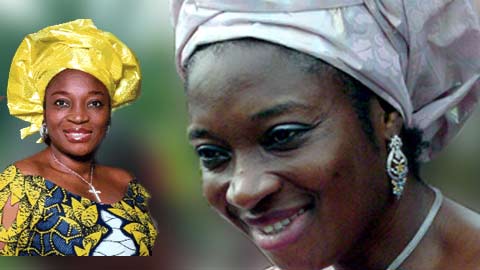 By Chioma Gabriel, Deputy Editor
Honourable Mrs Uche Ekwunife  is a  member of the Federal House of Repre sentatives representing Anaocha/Njikoka/Dunukofia Federal Constituency of Anambra state. She is also the gubernatorial candidate of Progressive Grand Alliance , PPA, for the February 6, gubernatorial election in Anambra State.
In this encounter, she answers questions on her gubernatorial ambition and her chances of winning amongst other issues.
Excerpts.
What inspires your running for governorship position in Anambra state ?
I believe in service to the people. I got this from my mother. I have tried to serve as a private person. There is very little one can do and achieve in that circumstances. I believe political power will provide me with the opportunity to take service to more people through good governance.
As an Honorable member representing Anaocha / Njikoka / Dunokofia Federal Constituency, how many motions/ bills have you moved or sponsored so far?
I have moved several motions,  prominent among which is the motion on the menace of erosion in Nanka and Ekwulobia. I also successfully moved the motion on the menace of kidnapping and armed robbery in Anambra state.
My bill on the establishment of National Projects Monitoring Agency   has gone through 3rd reading and awaits the Senate. I also co- sponsored several bills and motions. As a legislator I have felt the roughs and tumbles of law making. My experience as a legislator has prepared me for future aspirations.
What impact has your NGO made to alleviate the suffering of women in Anambra state?
The Uche Ekwunife Youths and Widows Support Centre to the Glory of God has touched the lives of many young people who have gained scholarships to further their educational endavours. The NGO has provided direct assistance to widows and women in small businesses. The NGO has also made it possible for over 20 women pilgrims to visit Jerusalem on pilgrimage. We have done a lot and still need to do more to better the lives of women , especially the less privileged.
In a politically turbulent state like Anambra, what gave you the courage or boldness to risk your person to contest for  the hottest seat in the state?
I am moved by the cries, the pains and sufferings of my people, the rampant killings and kidnappings, the insensitivity and failures of previous leaders to respond positively to the needs of the growing number of unemployed youths roaming the streets without hope. It was no longer possible for me to be uninterested. My mission is to serve the people.  God is my strength.
Who is your political godfather?
God is my God Father. I give Him all the thanks and glory for all we have achieved and are going to achieve.
If given this mandate, what will be your priority?
Almost all aspect of the state will require urgent attention. However, restoring peace and security in the state will be my number one priority. Achieving peace and security will enable us begin to focus on other key issues like; unemployment , revamping decayed infrastructures and building new ones, revamping  collapsed industries so as to create new jobs, revitalizing the economy and redeploying the resources of the state to work for the people.
Your party, the PPA does not seem to be very popular in the state. Why did you opt to contest under PPA?
I do not agree with that statement. PPA is a grass root party with offices and structures in all the 326 wards of the state, community offices in all the 177 communities and 21 local government offices.  I do not know of any other party that can boast of such an intimidating grass root presence.
You have people like Governor Peter Obi, Professor Chukwuma  Soludo and Dr. Chris Ngige, to contest with. What have you to say about them?
These are patriots anxious to serve the people but I believe I have something more practical and beneficial to offer the people.
How would you assess Governor Peter Obi's performance?
His Excellency Mr. Peter Obi has done his best which isn't good enough for Anambra State. I will not be running for the office of governor if I believe he has done well. I do not see any reason for his 'continuity campaign' in the midst of grave insecurity, pains, poverty and sufferings, decayed infrastructures, unemployment and dysfunctional school system among other issues.
But Dim Emeka Ojukwu begged Ndi Anambra to vote for Peter Obi for another four years as a last gift to him because he Peter calls him father?
The other day I saw Obi with his supporters on television wearing colourful 'Ankara clothes printed with Ojukwu's photographs, I wondered between him and Ojukwu who is contesting for this election. With due respect, anyone still parading Ojukwu  for political benefit at this time  is doing him lots of disservice as Ojukwu must be allowed to enjoy well deserved  retirement.
Ojukwu is the collective icon of Ndi Igbo and we are all his children.  We pray for him to be strong and alive to see a better government that will honour him with true love  which will elongate his life.
What are your views on religious politics as allegedly being played by Mr. Obi using the Catholic Church in Anambra state?
The major front runners in this election: Obi, Ngige, Soludo and I, are all Roman Catholics and I do not see any of us being more catholic than the other.
For instance,Ngige is a Knight of the church and I a member of the CWO. While I recognize the place of the church in the affairs of the state and the roles faith and religion play in our individual lives, IÂ  do not subscribe to partisan religious politics and dichotomy because these are some of the divisive factors that separate us rather than unite us.
Everyone irrespective of gender, faith or religion faces the grave insecurity, poverty and sufferings in Anambra. The work ahead requires that Ndi Anambra must unite as one to rebuild the state. It is therefore regrettable that someone is introducing religious politics into this election.
What was your relationship with former governor Mbadinuju?
His Excellency, Dr.  Chinwoke Mbadinuju was the former governor of the state, and when I was the Area Manager of the Standard Trust Bank in Awka, we managed sundry accounts for the state and Houses of Assembly accounts. This banker/customer relationship brought us together for which so much lies were told and written about me without any regard to the fact that I am  a happily married mother of three wonderful kids.
Do you think Anambra is ready for a woman as governor?
I see myself first as a concerned Anambrarian and not just as a woman in this election. The challenges we faced in the state  must be collectively addressed and not on the basis of gender. I believe in competence, capability and the will to govern with the fear of God. The people are ready for change. I am therefore not just asking for their votes but that they get ready to work.
What do you have for the women?
As governor, the voice of women will be heard in my government. We plan to allocate to the women 40% of appointive posts. My government will make it easier for women in civil service to balance between work and the family by reducing working hours for nursing mothers, expand annual maternity leave for women and grant extra 48hrs per annum for women to attend to domestic issues like children school activities.
We will end cultural discriminations against women. We will assist women in agriculture and small businesses including increasing the percentage of women owned businesses receiving micro credits and contracts from the state government. My government will make it easier for mothers to play active part in the life of their children beginning from the age of 0.
How do you manage your relationship with your husband, children and the running of your homes?
Being a wife and a mother means a lot to me. I do not allow politics to interfere in my family life. I balance them very well.
What are your chances of winning in the forthcoming election?
I am confident of my winning in a free and fair contest. Two things will make me win this election: God and the people. I believe in the absolute power of God .I believe in the people and they trust me
What's your opinion on INEC?
I believe INEC will conduct a free and fair election where every vote will count. I believe the security agencies will be alive to their responsibilities to protect voters from violence. I know the people are now more politically aware and will stand against any attempt to subvert their will. As a candidate, I am focusing on my campaign and pushing my manifesto to the people.